The following is my transparently personal list of some of my favorite bits of trans greatness in 2015. It's by no means objective, or even approaching comprehensive, but a fair representation of what's continued to linger in my mind. Enjoy!
One year of Janet Mock's So Popular
I looked forward to every Friday morning of 2015 for one reason: Janet Mock's So Popular on MSNBC Shift. Each week Janet and her brilliant, shady, contagiously enthusiastic Smart Ass Pop Culture Feminist Clique would critically engage with subjects we "pretend we're too smart to like". It was politically subversive in the effortless way it centered the perspectives of those at the margins everywhere else, yet never once came off as ideologically motivated or strident. Its consistent blend of passion and playfulness was the single best counterargument to every OpEd about political correctness and humorless social justice warriors. If you want to get excited about what the future looks like, watch So Popular.
ICYMI: My show turned one and I nearly balled during this tribute https://t.co/jPT2dfREhc  #SoPOPular

— Janet Mock (@janetmock) December 21, 2015
2. Trans Journalism
Journalism is important. That's not my personal belief, but a fact that is sometimes forgotten in the overabundance of instant information online. We need smart, independent, thoughtful people to look closely at events and offer smart, independent, thoughtful coverage and commentary. We haven't had much of that from trans people on platforms seen by a wide audience. Traditionally, it's only been in blogs and Twitter feeds, an internal conversation. That began to change this year, with no better example that Diana Tourjee at Broadly. Over the last year, Tourjee has consistently brought intelligence, clarity, depth, and eloquence to a wide range of topics, exactly when it most needed.
While I single her out, she was far from alone. Jos Truitt (Feministing), Mey Rude (Autostraddle), Meredith Talusan (BuzzFeed), Samantha Allen (Daily Dot), and Mitch Kellaway (Advocate.com) all made big contributions to the national discourse. While it was a short-term beat, I was also grateful for Casey Plett's recaps of I Am Cait, the only ones that left me feeling like I was watching the same show. Special mention should be given to two cis men as well, Zach Stafford at The Guardian for his on-site investigations into LGBTQ murders, and editor Nico Lang for his consistent championing of trans voices and stories across platforms.
Finally, we can now celebrate 10 years of Monica Roberts' blog TransGriot. Her blog has been a consistent and incisive voice from the beginning, and its impact and importance has grown, particularly with her coverage of the HERO debacle in Houston.
3. Bamby Salcedo at Creating Change
During the opening plenary of 2015's Creating Change in Denver, the largest LGBTQ conference, Bamby Salcedo led a coalition of mostly trans and queer youth of color to storm the stage and read a list of demands. In a time when the direct action of organizations like ACT UP has given way to black-tie galas sponsored by banks, it was a powerful means of calling to attention to our contemporary crisis. It was perhaps the single moment of the year that brought me the most pride as a trans person. I just hope that those people in power who bore witness heed the call.
I was similarly inspired by Jennicet Gutierrez, who has worked with Salcedo, interrupting the President's speech at a White House LGBTQ Pride event. The irony that she was booed by people whose presence was a direct result of direct action 20 years earlier was not lost on anyone with a sense of history.
4. Miss Major on Stonewall
When the trailer for Roland Emmerich's Stonewall was released, there was a collective gasp of incredulity at its centering of a square-jawed, "straight passing", white male protagonist in one of the definitive moments of queer history. But none of the ample, and well deserved, blowback was as outraged, informed, or hysterical, as one of Stonewall's living witnesses, Miss Major.
"I hope a lot of people read this and get their heads out of their ass."
Every word of Mey Rude's wonderful interview with Miss Major is worth savoring, and learning from.
5. Bailey Jay's Twitter Feed
Did you know we have a truly great trans comic? One who combines brilliant wit, a distinctive and original voice, incisive intellect, gleeful irreverence, and intersectional sensitivity? You won't find her in any standup clubs, though she has made appearances on television with Amy Schumer, Jim Norton, and Neal Brennan. No, Bailey Jay may have become famous for her appearance, but it's her humor that explains why over 100,000 tune in to her Twitter feed, including me.
Every "straight man" should set up a Tinder and a Grindr, compare, and then reassess their boundaries if they wanna get laid.

— Bailey Jay (@BaileyJayTweets) December 24, 2015
I want to ironically recreate every dramatic trans trope from movies like crying while taking off a wig but I'd probably get a glaad award.

— Bailey Jay (@BaileyJayTweets) December 9, 2015
Dude: Does wanting to fuck you make me gay? Me: If gay guys would fuck me do you think I'd be here talking to your basic ass?

— Bailey Jay (@BaileyJayTweets) December 22, 2015
Onetime an old lady shamed a waiting room full of people for being on their iPhones as if her generation really lived life in a waiting room

— Bailey Jay (@BaileyJayTweets) December 9, 2015
6. Trans History Tuesday with Trace Lysette
Most people know Trace Lysette for scene stealing roles in Transparent and Blunt Talk, while the lucky ones know her from walking ballroom, but Lysette makes my list for her Instagram series #transhistorytuesday. Come for the impossibly glamorous pictures of the impossibly glamorous actress, but stay for the much needed history lessons.
7. Transgender Equality Task Force
The Annual Transgender Day of Remembrance often evokes as much a feeling of impotence as it does genuine mourning. In a year that saw a record number of murders, almost entirely of trans women of color, it was hopeful to see the formation of a Congressional Transgender Equality Task Force and its forum centering the testimony of trans women of color, like Joanna Cifredo and Lala Zannell, alongside trans policy veterans like Kylar Broadus and Harper Jean Tobin.
"Putting someone in jail in Los Angeles for a hate crime is not going to stop a transgender woman from being killed in Philadelphia," Zannell said. "Housing and a job might."
It's too soon to say whether the task force will take the active leadership role in Congress we need, but it's a promising start.
8. Shadi Petosky's Danger & Eggs
When you think of transgender people on Amazon, you undoubtedly think of Transparent. The difference between it and the forthcoming animated show Danger & Eggs, however, is that only the latter is created by a trans woman. Shadi Petosky, long a vocal critic of cis Hollywood's exploitation of trans stories, becomes only the 2nd known trans showrunner (alongside Sense8's Lana Wachowski). While the content isn't explicitly trans, Petosky's role uniquely empowers her to speak for trans people from inside Hollywood.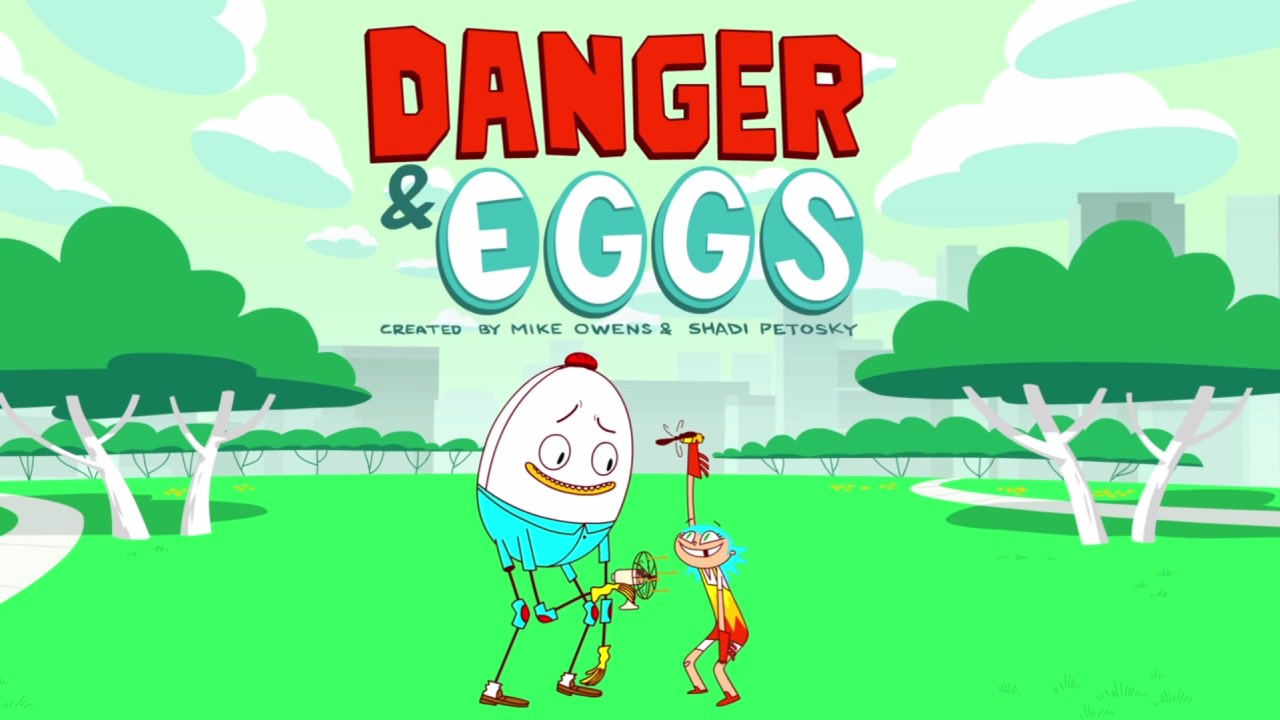 9. Angelica Ross
Angelica Ross was everywhere in 2015. Her company Trans Tech Social, which helps train and employ trans people in tech work, was profiled by MSNBC, she became an in-demand public speaker represented by Keppler, and Ross performed several concerts across the country.
Of course, I'm hoping she becomes even bigger in 2016 with her starring role in the upcoming series Her Story.
10. Laverne Cox cast in Rocky Horror
This is premature for a 2015 list, but I'm just that excited as an unabashed fan of Rocky Horror Picture Show. Seeing Tim Curry strut ferociously in lingerie while seducing both Brad and Janet was unlike anything I'd ever seen as a teenager, and proximity to Rocky Horror was to be in an permissive aura of gender play. Yes, it fails to live up to contemporary rules of trans discourse, and is not a good model of sexual consent, but it's also a musical about an alien that builds a human sex toy.
Point is, to a closeted kid in the suburbs, Tim Curry's sweet transvestite was everything, and soon Laverne Cox will have the opportunity to become that for a new generation. Not to mention that Fox casting a trans woman in a marquee role is revolutionary. And don't forget that the acclaimed actress is a trained and talented dancer.
11. Peaches' Rub video
Peaches repeatedly chants "Can't talk right now, this chick's dick is in my mouth" while the breathtaking gorgeous trans porn star Danni Daniels stomps around naked. Need I say more?
12. Kat Blaque's Tumblr & YouTube
I've been a fan of Kat Blaque for a couple of years, but the prolific commentator and illustrator has only continued to pick up momentum in 2015, sharing her increasingly sophisticated perspective on a wide range of topical issues on her popular Tumblr and YouTube pages.
13. Cherno Biko and Black Lives Matter
Black Lives Matter is without a doubt the single most important social movement of 2015, and it's a credit to the intellectually consistently intersectional feminism of its black women leadership that it's been explicitly inclusive of the issues faced by trans women. But we can also credit the tireless advocacy of Cherno Biko who spent much of the year speaking to whoever would listen about the violence her sisters suffer, particularly those in her home state of Ohio. She's an emerging voice deserving of continued attention.
14. Trans Ethics Interviews Trans Sex Workers
In early 2015 the website Trans Ethics published a series of interviews, mostly focusing on sex work and centering the voices of trans sex workers, a group that is often seen but rarely heard. I hope the series returns, or that other sites take their lead.
15. All Things Tiq and Kim Katrin Milan
I didn't think it was possible for Tiq Milan to be any more attractive. I've never met another man as simultaneously intellectual, politically engaged, fun and funny, spirited, charming, and distractingly handsome. Yet somehow when paired by the equally brilliant, driven, multi-talented, lively, and beautiful Kim Katrin Milan, they form a couple that proves a whole can be greater than the sum of its parts, and I've come to cherish their displays of mutual affection on social media. Simply and sentimentally put, their loves gives me hope, and that's no small thing.
See a bit of their magic in the wonderful series produced and hosted by Geena Rocero, Beautiful As I Want To Be.
16. Morgan M. Page
A friend once asked me what I thought of Morgan Page. Prior to 2015, I had had only one interaction with the Canadian artist and writer, when she trenchantly critiqued a project I had laboriously created. Unlike many of the project's other interrogators, she had no personal agenda and made legitimate points I hadn't yet considered. It was the first time I became a fan of my own critic. Over this last year, no other single thinker has so frequently riveted my attention, or offered better insight into the intersections of HIV, sex work, dating, media, and trans people, all with biting wit and punctuated with raw vulnerability and gorgeous selfies. Page's Twitter rants bring bracing insight, challenging me to think further, deeper, clearer, and more honestly. You should follow her, and book her workshops.
It's not about being for or against PrEP, it's about recognizing that PrEP needs a thoughtful roll-out to be useful to ppl.

— Morgan M Page (@morganmpage) December 11, 2015
Cis ppl freaking out about CJ's transphobic statements didn't have shit to say when Charlie Sheen commentators shat on trans sex workers, so

— Morgan M Page (@morganmpage) December 12, 2015
The idea that trans ppl only change our bodies to gain acceptance by cis ppl is an idea created and perpetuated by cis medical gatekeepers.

— Morgan M Page (@morganmpage) October 1, 2015
Also, she wrote my single favorite Tweet of 2015:
If you don't want me at my Nicole Kidman in Practical Magic, you don't deserve me at my Sandra Bullock in Practical Magic.

— Morgan M Page (@morganmpage) October 4, 2015
17. Tyler Ford
I confess that I didn't understand "agender". It was a struggle for me to go from a traditionally masculine male gender presentation to an equally traditional feminine one, so the idea of choosing to exist in a place that felt like neither-nor to me was incomprehensible. That is, until I encountered agender writer & speaker Tyler Ford's appearances and essays in 2015. Their eloquence and sincerity made me wonder why I ever thought it was anything other than another natural, wonderful form of gender identity.
18. Namoli Brennet's Ditch Lilies
Singer/songwriter Namoli Brennet has been steadily turning out beautifully crafted, heart wrenching songs for over a decade, but 2015's Ditch Lilies is perhaps my favorite. It's a beautiful collection of tales about people we easily overlook, like the titular flowers we speed by on the highway. It's been my soundtrack for 2015 and deserves a wider audience. Listen to "Marjorie" once and it's simple despair and resilience never leave you.
19. Precious Davis & Myles Brady
I feel blessed to have had a front seat to the birth of the "trans Obamas", Chicago's beloved couple Precious Davis & Myles Brady, so I'll never forget being in a friend's home as they scanned channels one night and being shocked and delighted to see the couple speaking at the VMA's as part of Miley Cyrus' Happy Hippie Squad. And I can't wait to see the now engaged power duo on "Say Yes To The Dress" in January.
20. Happy Birthday Marsha!
I reserved the final spot on this list for what I'm most looking forward to in 2016: Happy Birthday, Marsha!, the short film by Reina Gossett and Sasha Wortzel. That the indie, trans led project, starring the magnetic Mya Taylor, raised $35k+ in a successful crowdfunding campaign should be a wake-up call to Hollywood, proving that there's a demand for high-quality content about, starring, and created by trans people.
—-
Thanks for reading! Please share your comments and additions below!